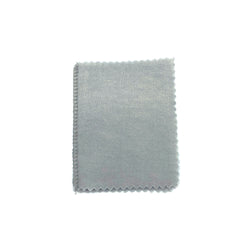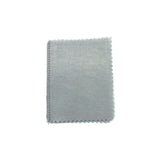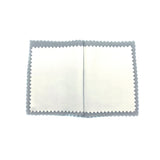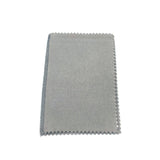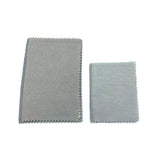 Jewelry Polishing Cloth
SKU: 91000101
This two-ply polishing cloth is essential for cleaning and maintaining common silver, gold, and other metal-based jewelry for a long period of time.
The soft inner cloth is treated with metal cleaning and anti-tarnishing agent to clean away residue. The outer cloth gently polishes and buffs the metal to high luster. The two-ply cloth system will effective clean your jewelry without causing a scratch or damage.
The polishing cloth is also excellent for watches, silver or silver plate, flatware and hollowware.
This polishing cloth is not meant to be used on 24 karat gold or soft/porous gemstones, such as opals, pearls, ivory, coral, lapis, malachite, etc.
Available in two sizes:
4"x 6" (10 x 15 cm)
6"x 8" (15 cm x 20)
The polishing cloth comes with the following usage instruction:
Gently rub metal with the treated inner cloth to loosen tarnish and oxidation.
Buff metal with the other cloth to obtain a beautiful shine. For heavily tarnished surfaces, slightly moisten the tarnished area prior to polishing.
PROCESSING
All orders are processed within 1-3 business days

.
Gift wrapping and messaging available upon request!
For personalized jewelry, please allow additional days for processing.

For gold jewelry, we may be able to customize jewelry for you for free or at additional cost upon request. Example:

Engraving

Necklace, bracelet chain length

Ring size or band thickness
SHIPPING
Our standard shipping to U.S. is free on all orders over $20.00.
Our standard shipping takes about 2-7 business days.
We also offer faster delivery (1-3 days) for a minimal cost.

All orders are protected from being lost or stolen during delivery.
Low cost shipping option to Canada and rest of the world.
Satisfaction Guarantee - contact us for any issues and we will work with you.

FREE 30 day returns and exchanges on all jewelry except:

Worn earrings (Sanitary reason)

Custom-ordered jewelry

Item showing sign of wear and damages may be charged reconditioning fees at our discretion.