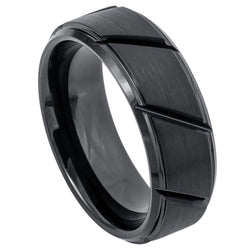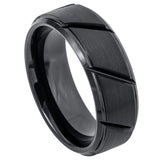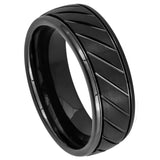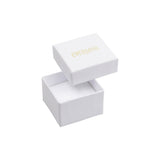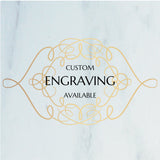 Black Diagonal Groove Stepped Edge Band
SKU: 41014800
This tungsten ring features flat brushed center with diagonal grooves, high polished stepped edges and black Ion Plating (IP) finish.

Metal
: Tungsten Carbide
Ring Width
: 8 mm
Ring Size (U.S.)
:
 7 - 15
Size Recommendation For Thick Rings
As the band width gets larger, the fitting of the ring may feel more snug. Thus, based on the thickness of the band, we recommend the following:
For the band thickness of 2 mm to 9 mm, select your natural ring size.
For the band thickness of 10 mm or larger, select a ring size larger by a half size of your natural ring size. For example, for a natural size 10, select size 10.5 for a ring with 10 mm thickness.
This product is eligible for a personalized high quality laser engraving service.
To add the engraving service, click the link below and follow the instruction to add the service to the shopping cart along with the jewelry.
Link:  https://everminejewelry.com/products/laser-engraving-service

Note for Rings:
Custom engraving can only be done on the inside of the band.
Engraving

 

Processing Time
:
Please, allow up to one additional
day
of processing for the engraving service. Usually, we can execute the engraving on the same day and
not add any additional delay to the general order processing time.
Return Policy on Engraved Jewelry:
Engraving is permanent. Therefore, engraved/customized orders cannot be returned or exchanged unless item is damaged at arrival or mistake was made on our end. If we made a mistake in your order, we will make the necessary correction at no cost.
Tungsten Carbide, commonly referred as just Tungsten for jewelry, is an alloy containing equal parts of tungsten and other metals. Tungsten carbide has many of the properties of tungsten, such as durability, strength and high melting point, making it virtually indestructible and scratch proof and offering unbelievable strength with style and comfort. They are polished with a diamond compound, resulting in a permanent polish and shine. Any plating, such as Ion Plating, may wore down and scratch over time, although not easily. 

Our Tungsten Carbide materials are Hypoallergenic and Cobalt-free.
PROCESSING
All orders are processed within 1-3 business days

.
Gift wrapping and messaging available upon request!
For personalized jewelry, please allow additional days for processing.

For gold jewelry, we may be able to customize jewelry for you for free or at additional cost upon request. Example:

Engraving

Necklace, bracelet chain length

Ring size or band thickness
SHIPPING
Our standard shipping to U.S. is free on all orders over $20.00.
Our standard shipping takes about 2-7 business days.
We also offer faster delivery (1-3 days) for a minimal cost.

All orders are protected from being lost or stolen during delivery.
Low cost shipping option to Canada and rest of the world.
Satisfaction Guarantee - contact us for any issues and we will work with you.

FREE 30 day returns and exchanges on all jewelry except:

Worn earrings (Sanitary reason)

Custom-ordered jewelry

Item showing sign of wear and damages may be charged reconditioning fees at our discretion.